This week has been a pretty good one, reading wise. I finished the one that I was still working on at the end of last and read one other.
The first was
Synopsis: "A gorgeously written novel that marks the debut of an astonishing new voice in psychological suspense.
As dusk approaches a small Dublin suburb in the summer of 1984, mothers begin to call their children home. But on this warm evening, three children do not return from the dark and silent woods. When the police arrive, they find only one of the children. He is gripping a tree trunk in terror, wearing blood-filled sneakers and unable to recall a single detail of the previous hours.
Twenty years later, the found boy, Rob Ryan, is a detective on the Dublin Murder Squad and keeps his past a secret. But when a 12-year-old girl is found murdered in the same woods, he and Detective Cassie Maddox (his partner and closest friend) find themselves investigating a case chillingly similar to the previous unsolved mystery. Now, with only snippets of long-buried memories to guide him, Ryan has the chance to uncover both the mystery of the case before him and that of his own shadowy past."
As I said in my update on this one I was enjoying the beginning of this book and I would have enjoyed it more if French hadn't totally made Ryan messed up. I couldn't stand him by the end nor did I end up caring for the story because of it. I liked him as a narrator, but slowly with where he was going mentally it left me with a bad taste. I don't think this book is bad, and I will end up reading the next one, but I found the whole thing messed up. Nor could I understand how he got blamed for all of it when his partner didn't seem like much of one in the end. Eh. I end up rating it
The next one that I read this week was:
Synopsis:"A brilliant debut mystery in a classic vein: Detective Cormoran Strike investigates a supermodel's suicide. After losing his leg to a land mine in Afghanistan, Cormoran Strike is barely scraping by as a private investigator. Strike is down to one client, and creditors are calling. He has also just broken up with his longtime girlfriend and is living in his office.
Then John Bristow walks through his door with an amazing story: His sister, the legendary supermodel Lula Landry, known to her friends as the Cuckoo, famously fell to her death a few months earlier. The police ruled it a suicide, but John refuses to believe that. The case plunges Strike into the world of multimillionaire beauties, rock-star boyfriends, and desperate designers, and it introduces him to every variety of pleasure, enticement, seduction, and delusion known to man."
This is definitely not Rowling's best, but for her first time writing a mystery it was a good beginning.
She does end up falling into the trap of some cliché's which I was willing to forgive, but not so much how long it took to get to the actual investigation. Instead of letting us get to know Strike throughout the actual murder case, she focuses the first 100 pages on him, with barely any time on the case. But I truly enjoyed Strike, he was easy to enjoy and to get to know. What I especially found to be great was that she doesn't explain the clues to you, but lets you figure it out for yourself. By the end, I wanted to re-read it just to go and explore the clues even more. This was a strong beginning, even if I did find some things to be lacking, and I look forward to the next one.
I rated it:
WHAT I AM READING: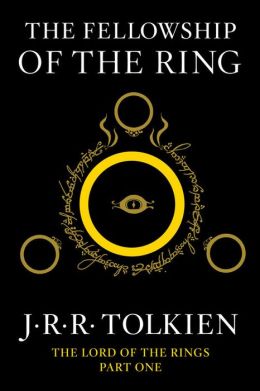 This is a re-read so I can continue on with the next two parts. I enjoyed it the first time, even if I do feel Tolkien runs on a bit.
So that is it from, tell me have you read any of these? What are you reading?